Hotel Bristol, a Luxury Collection Hotel, Vienna a symphony of charm & charisma since 1892.
Hotel Bristol, a Luxury Collection Hotel, Vienna is a meeting place for over 120 years, the social life of the Danube metropolis. Opened ir' 1892, offers the luxury Hotel \/lenna to date with the best location at the Vienna State Opera, Viennese charm, personal service and customized concierge advice. Type Deco elements bear witness to the history and tradition of the S star hotels in the center of Vienna. As urban oasis, Hotel Bristol Vienna is the starting point for a memorable stay in Vienna.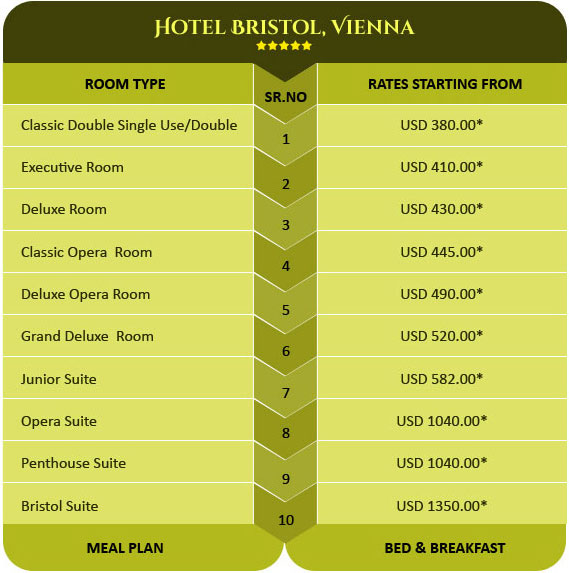 Hotel Imperial, Vienna - A Palace of Imperial Grandeur since 1873
The sumptuous surroundings of the Luxury Hotel Imperial Vienna were originally created in 1863 as the Vienna residence of the prince of Wurttemberg and were transformed into the Hotel Imperial for the universal exhibition in 1873. The hotel gained renown around the world as a byword for discretion and impeccable service. The unique location at Vienna's famous Ringstralse, next to the Musikverein Vienna provides excellent conditions to explore the imperial city with all its magnificient sights.